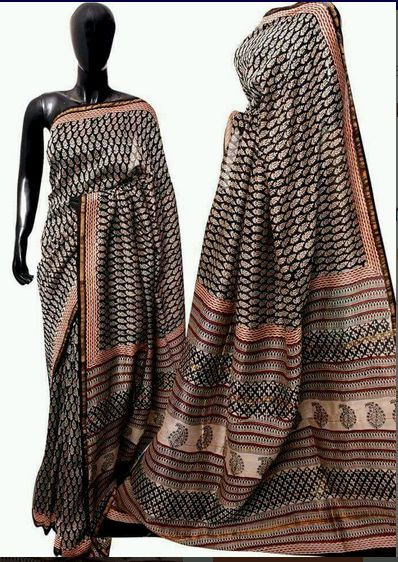 Named after its birthplace, the town Chanderi in Madhya Pradesh, the gorgeous, light-weight, regal yet elegant chanderi sarees are favored by women of all classes in India. Owing to its comfort, styling appearance, and wonderful prints, the fine quality chanderi sarees are loved by women of all ages even teenagers.
Available in various patterns and in both cotton and silk fabrics, chanderi sarees are an excellent choice for every season. It is one of the must-have possessions for every saree connoisseur to complete her Indian ethnic wardrobe. Whether it is a wedding, puja or a simple gathering with friends, a classic chanderi saree teaming up with a stylish blouse, would be enough to look like a stunner at any occasion.
The versatility of chanderi sarees:
The three most popular fabrics used to weave a chanderi saree are pure silk and chanderi cotton, silk cotton. Featuring a wide range of unique motifs or butti from traditional coins, flowers, and peacock to modern geometric patterns, chanderi sarees are known for their glossy transparency and sheer texture.
Chanderi Sarees are considered as stylish Indian wear for both casual and opulent ceremonies based on the type of fabric and the richness of the weave. While bagru or kalamkari print chanderi sarees make elegant and classy office wear, a regal-looking chanderi slik with golden zari work would be the ideal choice for a shimmering effect on ceremonies like wedding or puja. With extremely soft fabric that drapes like a dream and comfortable fit, chanderi sarees are sure to elevate your beauty and make you look great.
Features of printed Chanderi saree
• Colorfastness
• Elegant style
• Easy to wash
• Stunning Pattern
• Graceful Designs
• Bright Colours
When it comes to rocking an elegant yet stylish look with élan, the hand-block printed chanderi sarees are the best one to opt for. Created with wash-resistant print, the hand-printed bagru, kalamkari or batik chanderi sarees are celebrated all over the world for their effortless elegance. Offering a wide range of printed chanedri sarees at reasonable rates, the bagru print chanderi saree suppliers in Jaipur have garnered immense popularity in the market.
Renowned as the trusted suppliers of bagru print chanderi sarees, the vendors from this capital state of Rajasthan provide customers with an impeccable of range of sarees, which are highly demanded, by customers around the country for their e excellent quality and elegant look. Following are some of the pivotal factors that the bagru print chanderi saree suppliers keep in mind to retain their popularity.
• Their offered range of sarees is designed using fine quality fabric by trained creative professionals to meet the variegated preferences of our clients.
• They have a team of adroit professionals who examine each and every lot of sarees on the basis of several stringent quality parameters before forwarding any consignment to the market.
• With the help of a wide networking team and strong transportation system, they ensure the products are delivered to the clients within the stipulated time frame.
• They offer a wide range of chanderi sarees as per clients' requirements at the market leading prices.
Available in so many different colors and featuring stunning prints, the beautifully crafted chanderi sarees are one of the best handloom sarees that you must possess in your wardrobe.